Programs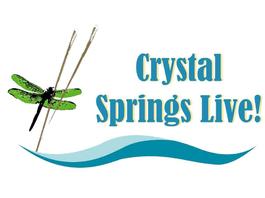 Current Programs
Crystal Springs LIVE is our new interactive, VIRTUAL FIELD TRIP being offered by WaterVentures and Crystal Springs Foundation.  This new program allows students to connect with experienced educators via Skype or Google Hangouts  from the comfort of your classroom.  
Minimum requirements for distance learning: internet connection fast enough to support Google Hangouts or Skype, a webcam with microphone (on a laptop/computer or stand alone), large display (large computer screen, projector, or TV).  If you have questions about the technical aspect of this program please email Courtney, DL@waterventures.us.  
All about Alligators!
In this interactive Virtual Field Trip, students will dive into the swampy world of Alligators! How do these modern day dinosaurs hunt, hide, and survive! Our instructor will guide students through an inquiry-based lesson that will include videos, real animal skulls, and live alligators!
Sunshine State Standards: SC.1.E.6.In.1, SC.2.L.17.In.2, SC.3.L.15.In.1, SC.4.L.17.In.4, SC.5.L.15.In.1
Springs Around the World!
Dive into the underwater world of water! Students will learn about the water cycle, the aquifer in Florida, and various springs around the world. Investigate how a spring works, and learn about our spring fed pond at Crystal Springs Preserve! Students will enter the underwater world of Florida's aquifer for an experience they will never forget! 
Sunshine State Standards: SC.2.E.6.In.1, SC.4.E.6.In.4, SC.4.E.6.In.6, SC.4.L.17.In.4, SC.5.E.7.In.2, SC.6.E.6.In.1, SC.6.E.6.Su.2
Think Outside the Trash!
"Think Outside the Trash" will teach students how to keep our Florida environment clean! Your students will learn how trash gets into our waterways, and what we can do to keep it out. Students will get an in-depth look into the recycling process, and learn what they can recycle in their county. They will walk away with vital information that they need to be the next generation of water stewards in Florida. 
Sunshine State Standards: SC.4.L.17.In.4, SC.4.E.6.In.3, SC.4.P.9.In.1
Click here to register for our VIRTUAL FIELD TRIP
(No reservations can be made for WaterVentures using the Crystal Springs LIVE calendar)
or email: DL@waterventures.us!
NOTE: This is only for the VIRTUAL FIELD TRIP, Crystal Springs LIVE.  All inquiries about booking the WaterVentures vehicle should email helen@waterventures.us.
For a full description of the Sunshine State Standards, Please see below:
SC.1.E.6.In.1 Identify rocks, water, and living things in the environment
SC.2.L.17.In.2 Recognize that many different kinds of living things are found in different habitats
SC.2.E.6.In.1 Sort rocks according to size and shape
SC.3.L.15.In.1 Classify animals by a similar physical characteristic, such as fur, feathers, and number of legs
SC.4.L.17.In.4 Recognize things that people do to help or hurt the environment, such as recycling and pollution.
SC.4.E.6.In.3 Recognize that some natural resources used by humans are non-renewable, such as oil.
SC.4.E.6.In.4 Identify that wind and water cause physical weathering and erosion of rocks
SC.4.E.6.In.6 Identify natural resources found in Florida, including solar energy, water, and limestone
SC.4.P.9.In.1 Observe and describe properties of materials that have been changed into other materials, such as decayed leaves of a plant
SC.5.L.15.In.1 Identify ways that plants and animals can be affected by changes in their habitats, such as lack of food or water, disease, or reduced space
SC.5.L.17.In.1 Identify features of common plants and animals that enable them to survive in different habitats (environments)
SC.5.E.7.In.2 Recognize that water evaporates from the ocean, falls as precipitation, and then goes back into the ocean
SC.6.E.6.In.1 Describe how weathering and erosion reshape the Earth's surface
SC.6.E.6.Su.2 Recognize different landforms in Florida, including beaches (coastlines), rivers, and lakes