Crystal Springs LIVE!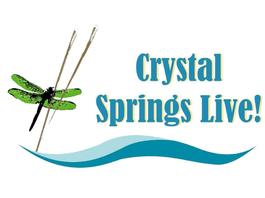 Bring a VIRTUAL FIELD TRIP into your classroom for FREE!
Crystal Springs LIVE is our new interactive, VIRTUAL FIELD TRIP being offered by WaterVentures and Crystal Springs Foundation.  This new program allows students to connect with experienced educators via Skype or Google Hangouts  from the comfort of your classroom.  Currently, three programs are being offered: All About Alligators, Springs Around the World, and Think Outside the Trash.
Minimum requirements for distance learning: internet connection fast enough to support Google Hangouts or Skype, a webcam with microphone (on a laptop/computer or stand alone), large display (large computer screen, projector, or TV).  If you have questions about the technical aspect of this program please email Courtney, courtney@waterventures.us.  
Programs are booking now!
Visit our interactive calendar using the link below to make your reservation for your classroom or all of your 3rd-5th-grade classes.  There is no limit to the number of students that can view the program at one time.  
Click here to register (No reservations can be made for WaterVentures using the Crystal Springs LIVE calendar)
or email: courtney@waterventures.us
NOTE: This is only for the VIRTUAL FIELD TRIP, Crystal Springs LIVE.  All inquiries about booking the WaterVentures vehicle should email helen@waterventures.us.