Our Team
 Courtney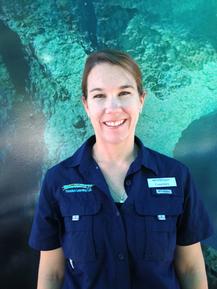 Courtney comes to us from beautiful Canada!  

She completed her Master's in Education for Sustainability at Griffith University in Brisbane Australia and her undergraduate degree from Brock University in Ontario.  

Some of her experience includes educating 10-12-year old students about Earth's natural resources with the Wild Mountains organization in Australia.

Courtney enjoys photography and visiting new places.  Her other love are her Shelties!  
Courtney is also a certified Florida Master Naturalist and completed 120 course hours to obtain this certification.
 Julianne 
Julianne is from Cincinnati, Ohio.

She has a Bachelors degree in Zoology from Miami University (the one in Ohio!) and spent a summer studying the environment in South Africa.

She was previously an educator at the Columbus Zoo and the Cincinnati Zoo.

In her spare time she enjoys being outdoors, traveling, and watching wildlife.
 Shannon 
Shannon is from Chicago, Illinois and grew up in Hudson Beach, Florida. She is a Florida southern girl at heart.

She has a dual B.S degree in Elementary Education and Special Education and is currently working on her M.A. in Management and Development from Harvard University Extension School.

She loves being at the beach, exploring Florida's springs, traveling, and spending time with her family and French Bulldog named Ezzy.

She used to be a Weeki Wachee Mermaid and in the United States Coast Guard so she has a natural love and appreciation for Florida's water resources.
 Mark 
Mark has been driving for 30 years and has visited the lower 48 states, Canada and Mexico adding up to over a MILLION miles on the road.

The women in Mark's life have all chosen to dedicate their lives to the military in one form or another.  His wife of 38 years is a retired Army Master Sargent, RN and hospital clinical director.  While his 2 daughters have served in the Navy and Coast Guard Reserves in addition to attending nursing school and teaching respectively.  

In his spare time Mark enjoys paddle boarding, kayaking, flipping houses with his wife, and his new hobby, kite surfing!

Mark recently completed all 120 hours of the Florida Master Naturalist program.